A 1948 photo of Donald S. Case taking the farms team of horses (Tom-Grey and Genny-Black) down to grandfather Alex Case's 60 acre farm.
In the late 1940s Don's favorite radio show was "Straight Arrow".
You could get a "Straight Arrow Ring" for 10 cents and two box tops from Nabisco Shredded Wheat.
Donald S. Case's Gun Collection at age 16 in 1955
While at Ft. Bliss - Worked 2 nights at the HILTON
Fri as NIGHT AUDITOR Sat as NIGHT MANAGER
We were both Lt's at Ft Bliss in the 60's
We lectured on Air Defense ( Nike Ajax/ Herc)
THE SHAH OF IRAN
MOHAMMAD REZA SHAH PAHLAVI
On 16 January 1979 Mohammad Reza Shah Pahlavi left Iran. Earlt in 1980 the Gov't of Iran asked that all remaining dollars on all open U.S. Military Contracts be returned to Iran. The Defense Department was tasked to determine the dollar amount of 100s of open contracts. Donald Case was asked to join an Army team as a Scientist (Operations Research Analyst). He worked on that project thru completion.
Educational Tour - France/Germany/Alps-88
EF Convention - Florence, Italy - Nov 1988
Paper = Travel as an Additive to Education
EF Ski Insbruck - Dec 1988
Europe with an Alpine Flavor
Educational Tour - London/Edenburg 1989
Educational Tour to London - 1992 Mar
Student calling home
EF Educational Tour - London/Paris 1999
PARIS - LONDON - EDINBURGH 1992
Educational Trip to Italy - 2000
CMU Students and Others
Educational Trip to Greece - 2001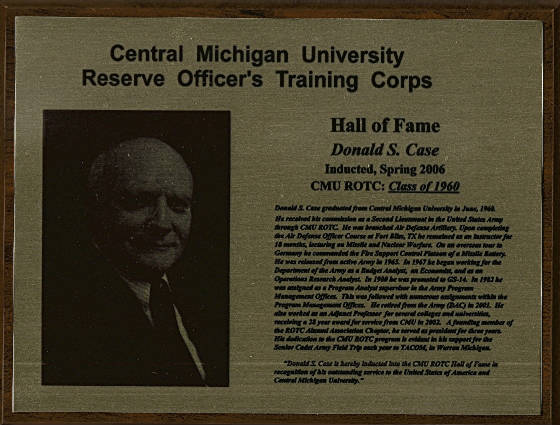 December 14, 2010
Picture taken from across the road
Donald Case graduated from North Huron High School in 1956. He returned 56 years later as it's COMMENCEMENT Guest Speaker.